Pupils get a racing start at our school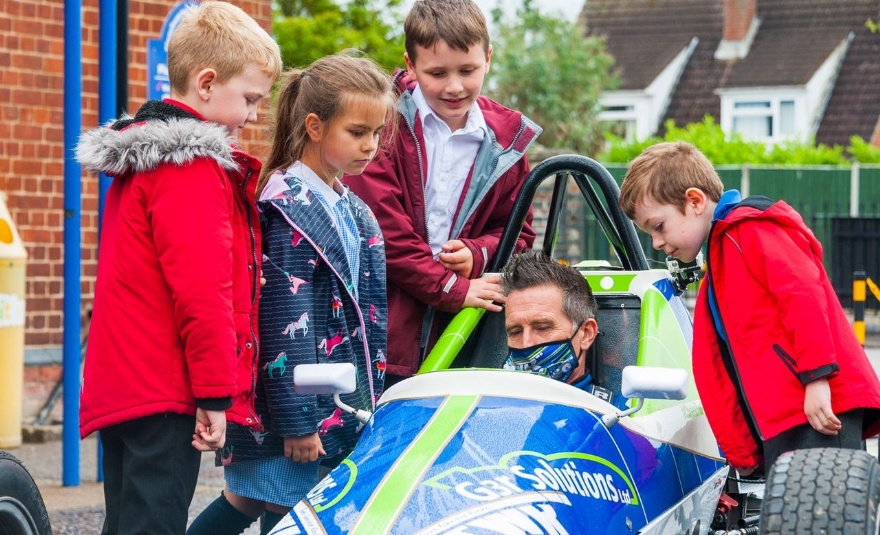 It's not every day a racing car parks on a school playground and our pupils were amazed when it happened to us this week.
Both staff and pupils were astounded when racing driver Bill 'Wom' Garner arrived at school with his eye-catching Formula Vee car that he races all over the country.
With its bright livery raising awareness of Parkison's Disease, Wom's car is instantly recognisable and his visit to the school comes just two weeks ahead of his next race at Norfolk's Snetterton circuit on July 17 and 18.
Everyone was so excited and we all loved the car - seeing a real race car close-up is something not many people have the opportunity to do and we were thrilled when Bill said he would come over and show the children his car.
Mr Garner, of Wisbech, has been racing in the single-seater class for a fifth season and last year he had his TW10 car liveried to help raise awareness of the neurological disease that both his uncle and a friend were diagnosed with.
He returned to competitive motor sport in 2016 after competing in Long Circuit Karting during the late 1980s and taking third spot in the sport's 1989 CIK European Championship.
Formula Vee is designed to be a less-expensive way of racing as all the cars are based on the Volkswagen Beetle 1300cc engine with a purpose-built frame and shell. They are all single-seaters and all the cars must use the same type of tyre to ensure they all have a similar level of equipment.
Thank you!
To view more photos please click here